HURRICANE PREPAREDNESS TIP OF THE WEEK
Week 1 Tip: Begin preparing your property.
Your property is at risk regardless of your proximity to the coast so one of your focuses this month should be to reduce the risk of damage to your home and/or business from winds and flooding.
Reinforce, elevate and insure now to be ready before the first storm pops up in the forecast.

Reinforce for Wind
To protect your property from wind, reinforce the outer shell (including the doors, windows, walls, and roof) and ensure all objects and non-building structures are secured or removed.

Elevate for Water
Elevating critical utilities (e.g., electrical panels and heating systems) may protect them from damage caused by flooding. In flood-prone areas, consider elevating the entire structure.

Protect Yourself with Risk Management Insurance
Proper insurance protects you financially from costly repairs due to damage. Flooding and wind are not included in standard insurance policies so connect with your risk management partner to ensure you are protected before the hurricane season starts. It takes 30 days for flood insurance to kick in so don't wait!
Tips on how to develop your emergency communication plan and supply kits coming next week!
If I am not mistaken, Noah built his Ark prior to the flood!
Pat Kerby BKS Director of Risk Mitigation Services
[fa icon="quote-right"]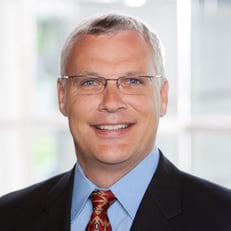 [fa icon="check-square-o"]
Week 2 Tip: Do you have a plan for your family?
When there is no hurricane, make a plan. Your family may not be together if disaster strikes so it is important to make a plan just in case. This week, we encourage you to explore some of the below communication, evacuation and supply kit plans. Take an inventory of what your family will need in the event of an emergency and act now so you're prepared in the event of a disaster. Ready.gov suggests following the below guides in order to have a secure plan.
Plan how you'll communicate if the network is down.
"What if something happens and I'm not with my family?" "Will I be able to reach them?" "How will I know they are safe?" "How can I let them know I'm OK?" During a disaster, you will need to send and receive information from your family.
Communication networks, such as mobile phones and computers, could be unreliable during disasters, and electricity could be disrupted. Planning in advance will help ensure that all the members of your household—including children and people with disabilities and others with access and functional needs, as well as outside caregivers—know how to reach each other and where to meet up in an emergency.
Use this guide from FEMA to prepare.
Know where you'll go if you are in the zone.

The first thing you need to do is find out if you live in a storm surge hurricane evacuation zone or if you're in a home that would be unsafe during a hurricane. If you are, figure out where you'd go and how you'd get there if told to evacuate. You do not need to travel hundreds of miles. Identify someone, perhaps a friend or relative who doesn't live in a zone or unsafe home, and work it out with them to use their home as your evacuation destination. Be sure to account for your pets, as most local shelters do not permit them. Put the plan in writing for you and those you care about.
Search online today for local pet-friendly evacuation locations:
Keep your car's gas tank at least half full in case you need to quickly evacuate
Know your community's local hurricane evacuation plan and identify several evacuation routes for your location.
Driving through flooded roadways is dangerous. Check out this @NWS PSA to see why:

Your plan should include a disaster supplies kit.
A disaster supplies kit is simply a collection of basic items your household may need in the event of an emergency.
Try to assemble your kit well in advance of an emergency. You may have to evacuate at a moment's notice and take essentials with you. You will probably not have time to search for the supplies you need or shop for them.
You may need to survive on your own after an emergency. This means having your own food, water and other supplies in sufficient quantity to last for at least 72 hours. Local officials and relief workers will be on the scene after a disaster but they cannot reach everyone immediately. You could get help in hours or it might take days.
Additionally, basic services such as electricity, gas, water, sewage treatment and telephones may be cut off for days or even a week, or longer. Your supplies kit should contain items to help you manage during these outages.
Resources:
Emergency Supply Kit Checklist
Week 3 Tip: Remain aware of current weather trends and information.
A hurricane can bring high winds, heavy rainfall, storm surges, coastal and inland flooding, rip currents and tornadoes. While weather is unpredictable, you CAN be prepared in advance. This week, take these 3 steps to keep your family and businesses up to date on critical weather events, evacuation information and ways to fortify your risk management plan this hurricane season.
1. Know your zone.
Evacuations are more common than people realize. Many communities have designated evacuation routes and some even have evacuation zones. Make yourself familiar with these evacuation zones, so if your local authorities issue an evacuation order, you'll know exactly where to go. Be sure to account for your pets, as most local shelters do not permit them. However, by law, public shelters do accept service animals (e.g., dogs). Remember: if a hurricane threatens your community and local officials say it's time to evacuate, don't hesitate -- go early. (fema.gov)
Whether you choose to evacuation or are ordered to evacuate, follow some of these guidelines:
Plan where your family will meet
Keep a full tank of gas in your vehicle
Leave early enough to avoid being trapped in inclement weather
Follow recommended evacuation routes
Be alert for road hazards such as washed out roads or bridges and downed power lines. Don't drive in flooded areas.
Click here to map out your counties evacuation zone. Make a transportation and travel plan for your family that reflects the county-issued evacuation route.
2. Stay up to date with local weather alerts.
You can stay up to date with local weather alerts and information by downloading the FEMA app. This app helps you to remain alert during an emergency weather situation.
Receive alerts from the National Weather Service for up to five locations
Get safety reminders, read tips to survive natural disasters, and customize your emergency checklist
Locate open shelters and where to talk to FEMA in person (or on the phone)
Upload and share your disaster photos to help first responders
Available for Apple, Android, and Blackberry devices.
Week 4 Tip: 2017 Updated Hurricane Predictions
As the 2017 Hurricane Season kicks off this week, continue to monitor weather alerts and keep up with national weather forcasts and predictions.
NOAA's forecast calls for:
11 to 17 named storms – including April's Tropical Storm Arlene
5 to 9 of which would become hurricanes
2 to 4 of which would become major hurricanes
The 30-year historical average (1981-2010) for the Atlantic Basin is 12 named storms, six hurricanes and three major hurricanes. A major hurricane is one that is Category 3 or stronger on the Saffir-Simpson Hurricane Wind Scale.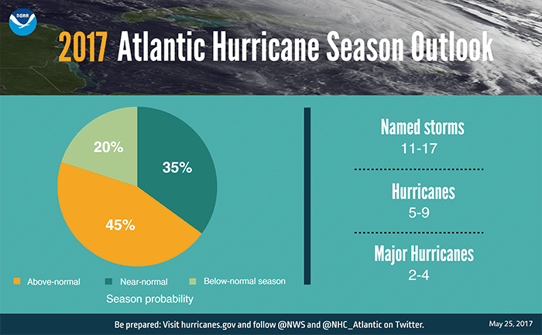 NOAA's 2017 Atlantic Hurricane Season Outlook
The 2016 hurricane season was the most active since 2012, with 15 named storms, including seven hurricanes and four major hurricanes. (noaa.gov)
Click here to view our 2017 Hurricane Preparedness Guide, and begin fortifying your home and business.